Monster Hunter: World is finally making it's way to PC next month and we're super hyped for it. The game was a massive success on consoles and is one of Capcom's fastest and highest selling games, and we expect it to perform just like that on PC. If you're looking to pre-order the game, here are Monster Hunter: World PC Pre-Order Bonus contents.
Monster Hunter: World PC Pre-Order Bonus
There are two editions of the game, the Standard, and Deluxe, both of which will include the pre-order bonus items, given you pre-order the game before it's release. Here's what you will get upon pre-ordering the game
Origin Set
The Origin Set armor is a nostalgic must-have for series fans.
This full armor set (head, chest, arms, waist, and legs) comes with enough defense to carry you through the early quests, and also features plenty of skills useful for gathering.
Fair Wind Charm
The Fair Wind charm carries a skill that increases your attack power and one that adds a chance of reducing the damage you take. The charm also has a nice visual impact, as equipping it will add a glowing aura effect to your left arm!
Monster Hunter: World Digital Deluxe Edition
If you're a big fan of the series and want to get all that sweet deluxe edition content, here's what you'll be getting if you buy that version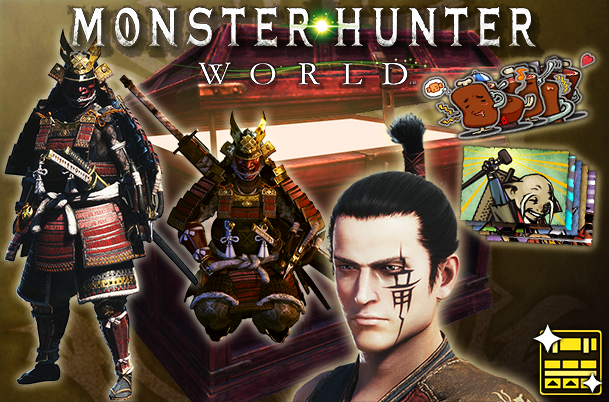 The digital deluxe edition includes the following content:
Samurai Set
Layered armor sets will change the look of your armor without changing the properties underneath. Equip this Samurai set over your favorite armor to take on the striking appearance of a feudal Japanese samurai warrior!
Note: No weapons are included with this set
Gestures
Enjoy three new amusing gestures you can use when interacting with other players in the game.
Stickers Set
MH All-Stars Set
Sir Loin Set
Fun stickers you can use when chatting with other players in the game.
Face Paint: Wyvern
Add a new face paint for character customization in Monster Hunter: World.
Hairstyle: Topknot
Adds a new hairstyle for character customization in Monster Hunter: World.
What do you think of Monster Hunter: World PC Pre-Order Bonus? Will you be pre-ordering it? Let us know in the comments below